How Much Should You Spend For Trekking Gears
How much money can you spend willingly for the trekking gears?
Especially when you go on 2 to 3 treks a year, and spend most of your vacations wandering around in the Himalayas. So, if you have that travel lust, it is very important to decide what trekking gears to buy because if your gears are comfortable you are all good to go.
I have been to so many stores, branded and non-branded in the last 3-4 years. What I have realized is, it doesn't matter how much money you spend on branded backpacks, shoes, or on other travel gears, what wears off is going to keep you stranded in between your journey.
On the other hand, I found that there are so many local markets which offer better quality stuff at a reasonable price.
There are many stores out there. For me, the most important gears while traveling or hiking/trekking is a good backpack, good quality shoes and the choice of warm clothes.
To start the discussion, let's talk about the backpacks.
Yes, you must choose a good quality backpack with easy access points. Now the question is, how much to spend without compromising the quality?
Firstly check whether the backpack is comfortable on your back or not, the weight balance is very important. Next, it has to be fully waterproof and with enough space to carry all essential traveling gears in it. Try to hold the backpack at your back with some loads in it before purchasing and make sure that the straps and paddings of the backpack are comfortable.
After that decide the size of your backpack. On an average 60-70 L is enough for anyone. Also compartmentalized backpacks are always better with openings through the mid-sections.
Nowadays backpacks are sectionalized to store clothing smartly. From Inners, to winters, to shoes, to toileteries, to wet cloths. All can be stored in different compartments. Basically advanced backpacks have 3 compartments and a mid-section opening, i would recommend you to purchase those in case you are very rigid regarding mixing of your cloths.
I have seen a lot of deals that could be available on Amazon for the decathlon, wildcraft, mount track, and Deuter backpacks.
Travel Backpack Forclaz 60L – Blue
Here my choice is a good capacity of 60 liters and a lightweight backpack for all of your traveling occasions. Try to check out the prices at Decathlon or the Amazon website and maybe you get it at a discounted price. It has 2 compartments with a mid-section opening and a very decent price.
It is not necessary to choose a branded product, you can even end to chose a non-branded backpack in the budget of Rs 1800- 2200 but do not compromise on the quality.
Good quality stuff is always a smart investment and Decathlon has good quality at reasonable prices. You can also check out this product on Amazon.
Now let's talk about Trekking Shoes
A good sole with deep grooves to hold the grip is all you need in your trekking shoes. And if you are getting both with ankle support, don't think and just buy it. If it is waterproof, it is definately a good investment and a perfect shoe to buy.
Now, if you are confused whether to spend Rs.5000 on a trekking shoe or not. If you have a very good budget and a frequent traveller, Then go for a Northface or Quechua product. But if you hardly going on 1-2 treks in a year and are on a budget, then i would recommend not to buy anything more than Rs 2500
See, if you end up buying those high-price shoes you may get frustrate by seeing them placed in the corner of your house somewhere.
Check out the price on Amazon.
Surely it provides you many options at a very good price. Some of the recommendations for branded trekking shoes are-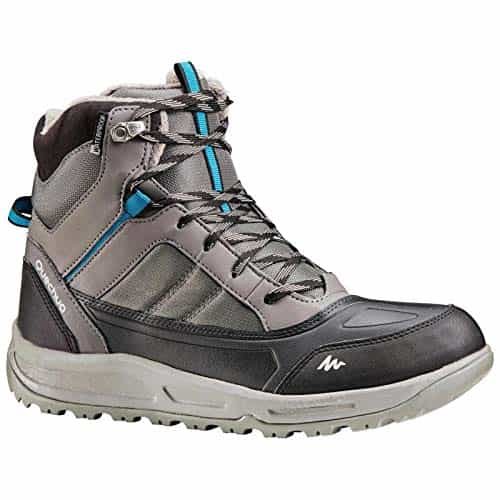 Well, personally I think some good quality and very durable item I have used at a low cost, are not from these brands. Products which gave me better performance in harsh climates in most of my trekking, hiking and wandering trips did not cost me more than Rs.1000.
It sounds like a good deal! Click on the link and check out the price and other specifications of the product.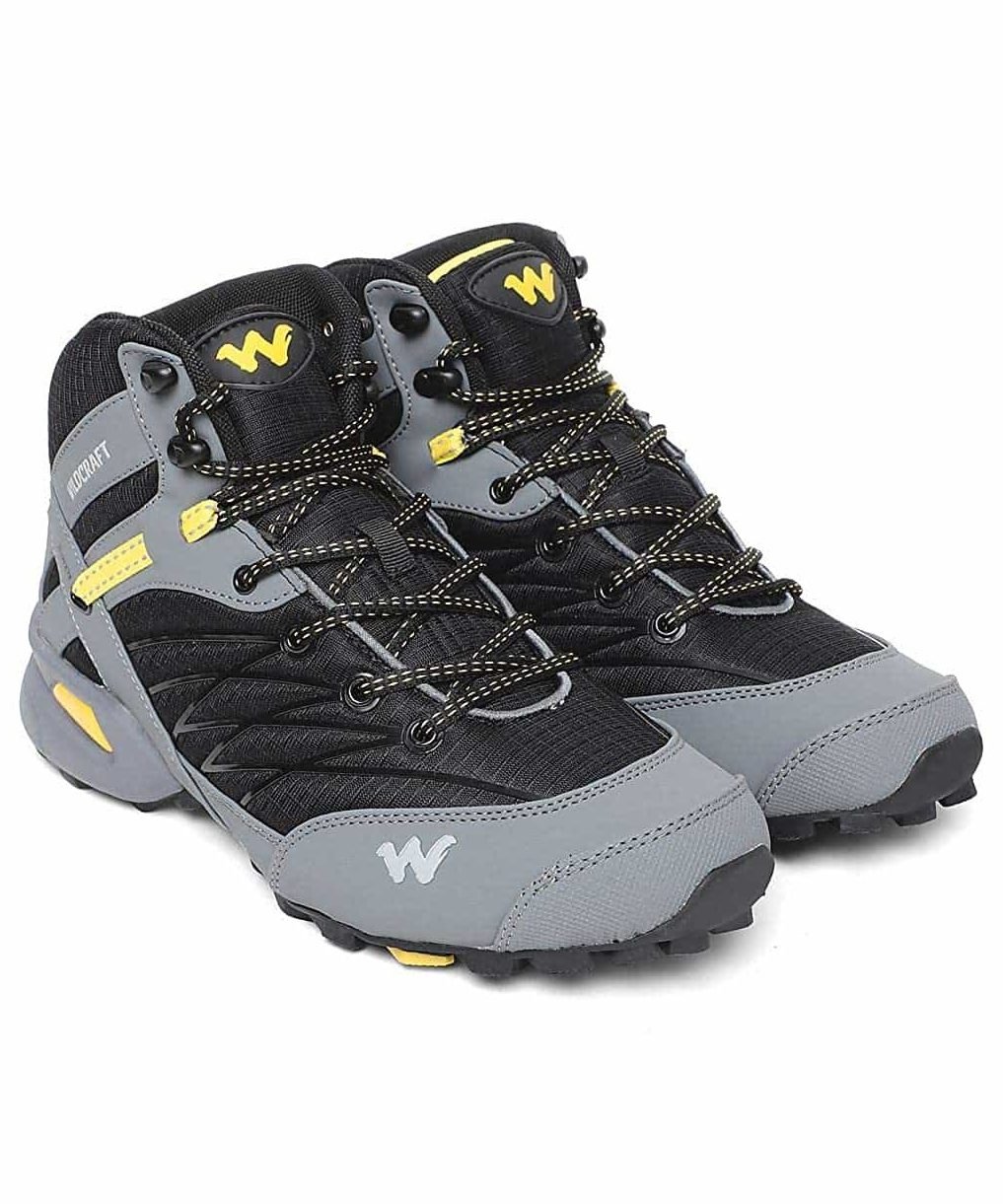 You can even use these shoes in muddy terrains, ice, or snow and you won't regret buying it. So, If you are buying these shoes, do not forget to comment below and share your trek experience with us.
Never compromise with the warm woolen stuff.
Even if you trekking for 2 days or a week, your clothes play an important role in your enjoyment and comfort.
The best way to get dressed for a Himalayan trek is through layering. If you have opted for the right choice of layerings, you can enjoy more. Otherwise you may get sick from that thin windy air and high altitude and then all that fun will end up being a disaster.
So start with the base layer, I would recommend choosing a warm and comfortable pair of thermals. You can go for body care and jockey thermals.
Try to choose good quality for this because this is the first layer of insulation that will protect you in the long run.
In all my winter trekking and hiking journeys, I found fleece to be the most effective. Fleece is not expensive and it is very cozy. You can either check on Decathlon or lookout in the local markets.
Well, I prefer to choose Decathlon products as they are very comfortable and lightweight. You can also try in some other brands but then the same comfort might increase the price.
Quechua MH100 Women's Mountain Hiking Fleece – Purple Stripe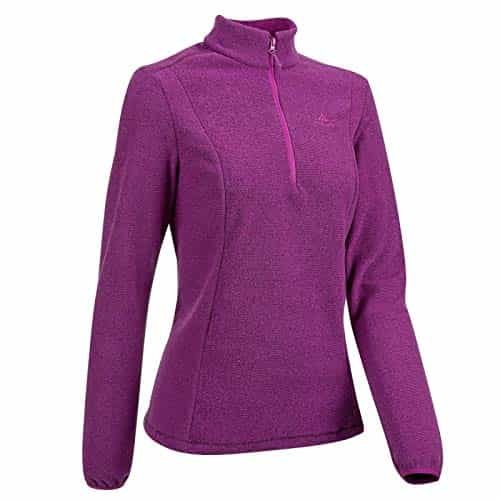 Now coming to the outer-most layer, you should choose wisely because when you are trekking at a higher elevation, you need a wind-proof and waterproof jacket.
Now again the same question arises, the budget?
For me Rs. 3000 is a perfect deal to buy a jacket for occasional trekking to decent height areas. You can choose to spend Rs. 5000- 6000 for a jacket but in the end, it will be lost somewhere in your wardrobe and you would regret not buying the same quality stuff at the cheaper price.
I checked on different brand stores, all were very expensive. But I found something on Decathlon, the jacket can be used for temperatures that drop upto -5 degrees.
Forclaz Women's Trek 100 Mountain Trekking Hooded Down Jacket – Blue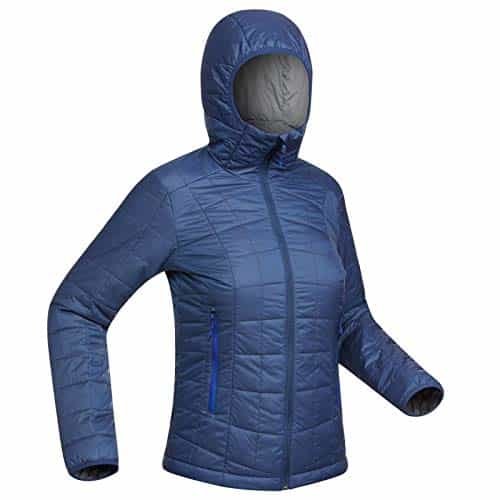 I purchased this jacket and I used it in -25 degrees temperature on a Himalayan trek with 3 inner layers (a thermal, a fleece, and a thin sweater). I found this jacket very comfortable as it is very lightweight and windproof and water-resistant too.
Fort Collins Women's Quilted Jacket
The second one I bought was a Fort Collin jacket. It cost me around Rs.1900 and I have used this jacket in the same above mentioned condition. Also, this jacket can be used in urban areas during winters. You can check the prices at amazon.
Quechua SH 500 Men's Warm Waterproof Hiking Jacket – Blue
For men, one of my recommendation which has been used by my friend on the same trek. Visit Amazon
If you are not that focused on the brands then you can also check with the local markets. Do not choose anything which is very bulky and takes up more space.
So, it is very important that you go for the specifications first and after that choose a brand whether you want to buy trekking shoes or a jacket or something else.
Lastly, try to go out for shopping at least a month before so that you can compare things and make the choice accordingly.
This is all from my personal experience. But, if you want to ask anything or have any queries feel free to ask us. Comment below and we will be here to provide the solution at the earliest.
Some Related Useful Topics :
Here are some topics you might find relevant and useful for planning your trip: