Well, if you are under the misconception that only physically trained people can do treks, then this article is a definite read. Trekking is something like yoga, painful at the beginning, with an unimaginable peace at the end. The joy of reaching the summit is overpowering. But most of it depends on your earnestness. And as a beginner, Triund is the perfect place to start a trek.
Different mountains have different views and different charisma. Yes, Triund is one of the perfect treks. A steep climb through the forest trails with the chirping birds, from highs and lows of the way, to camping at the top, to outstanding views of the Dhauladhar ranges.
Whether you are a rogue adventurer or traveling with your partner, this trek can be easily completed by you. The smell of deodar, rhododendrons, and oak trees freshen your mind and prepare you for the tough curves of the trek. Okay, So pack your bags and plan your trek with the help of this simple travel guide.
Trek Difficulty– Easy
Trek Distance– Trek distance is 8-9 km one way from Mcleod Ganj
Elevation– 2,850 m (9,350 ft)
Best Time For Triund Trek
The best time for Triund trek is when the weather is pleasant and not that hot; March to June and September to mid -December. In the winter season, it may get closed for some time due to heavy snowfall and would open again in late February or early March.
During the monsoons, it rains heavily and the way becomes slippery and hard for the trekkers.
How To Reach
Triund Trek starts from the Gallu Devi Mandir, & to start the trek first you need to reach Mcleod Ganj. You can easily find the Volvo buses or HRTC (Himachal Road Transport Corporation) from Delhi bus stand and Chandigarh too, also you can book the tickets online.
You can save your time by starting your journey at night because it takes approx 11-12 hours to reach Mcleodganj, else take a bus to Dharamshala which is 8 km from the town. And, from there you will easily get a shared cab. If you are in Mcleod, the market is filled with cabs for hire, which will take you to the trek start point at a decent cost.
Most of the peoples choose to travel by bus or their own vehicle because these are the most convenient options. Also, if you wish to book a flight, the nearest airport is Gaggal, 17 km away from Mcleod Ganj.
Now, you have to decide whether you want to start your trek from Dharamkot, which is about a kilometer away from the Mcleodganj bus stand; or choose to trek from Bhagsu Nag Village which also ends on the back-side of Gallu Devi Temple.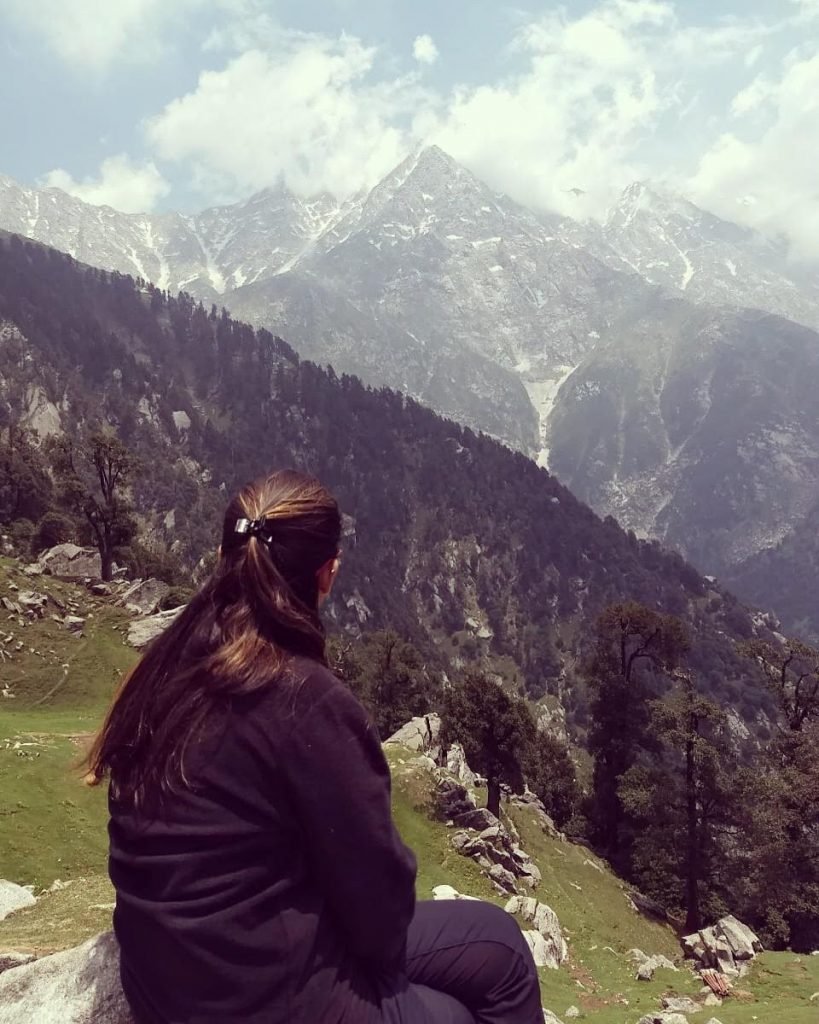 How To Start The Trek
Already Excited? Yes/No …May be??
Some of you may like to cut-off the distance of the trek so here you can either chose to hire a shared cab or auto to reach Gallu Devi Temple. You can start your trek from here but the walk from Dharamkot to Gallu Devi Temple fills your heart with a deep into the woods vibe.
A 1-1.5 hrs from Mcleo to Gallu Devi temple is a simple walk through the deodar trees with thick forests all the way.
Further, a 5-6kms trail has 2 eateries:- Magic view & Best view Cafe.
The last 1-2 km is the steepest and the most tiring part, but don't back off now- because soon you shall be able to see the summit view if it's not that cloudy.
Places To Stay
Once you reach the base point you can easily get many options to stay. If you reach early you will get the tents at cheaper prices (500-600 INR per person), don't forget to try your luck at bargaining, maybe you might end up with a good deal! However, if you reach late in the evening then the price may increase, to avoid extra expense reach early in the afternoon.
Wait! Have you already decided that you want to take a stay at the top hill for 2 days? In that case, I would recommend booking in advance. There is a government guest house at the top you can directly call on this number 01892-224887 (Divisional Forest Officer).
Enjoy the night with the twinkling stars over your head. The next day you will found yourself in the lap of clouds.
Important Things To Carry
Whether you are an experienced traveler or you are a beginner, your packing will decide the comfort of your experience. So, check out some of the important things to carry with you, especially if you are new to the trail.
You can also read some easy tips for traveling here that may help you to plan accordingly.
It is very important to keep yourself hydrated. So carry 2 water bottles with you because you are not gonna find streams or any other options for water throughout the trail.
Try to drink enough water one sip at a time. Especially, girls, they hesitate to pee outside and lower the intake of liquids but soon you get comfortable accepting the natures call.
Nights are cold at every high elevation place so better to pack some light woolen even if you are trekking in May or June.
Food availability on the trail is limited, better to carry some energy bars, juices, and nuts. These things are very helpful for instant energy.
Try to keep your bag light and chose some lightweight clothes while packing so that you would not feel tired.
Always pack a pair of bathroom slippers so that you will not think a thousand times before coming out from your tent.
Trekking is not a race. So if you are a beginner, try to walk at your own pace. Do not exert yourself.
Always wear good quality trekking shoes, you don't need costly items but the quality of the product is a must. For trekking shoes, you can also check with the army stores in your area. I found them very sustainable at a very good price.
Since you are walking directly under the sunlight, protect your skin with a good sunscreen lotion to avoid sunburn on your face.
Trekking Pole is very helpful for beginners and experienced as well.
While trekking, always carry a raincoat windcheater as it protects you from the cold wind breeze and rain as well.
I believe this is all that you should know before starting your journey. So, ask your squad, or you can explore solo and share the experience with us.
Moreover, If you have any questions in your mind before you start or plan your journey. Feel free to ask us, we will give you the best possible solution. You can comment below and we will be there with our best answers at the earliest.
Enjoy your journey!!
Also read:- Jalori Pass- A Gateway to the Paradise
Some Related Useful Topics :
Here are some topics you might find relevant and useful for planning your trip: