What is the first thing that comes to your mind when you think of everything opening up after this coronavirus pandemic?
Is it safe to travel nowadays? How do we find out if the hotels are safe? Can we travel by public transport? What are the rules one has to abide by while traveling? And so on.
I have jotted down a list of best places to travel in Himachal in 2020 during corona. For all the above questions that boggle the mind, you can find your answers in this blog. Coronavirus is now a part of our life and traveling has to be accommodated alongside this pandemic.
Everybody has their choice of terrain, some prefer beaches, some prefer the desert and some like me prefer mountains. And what better destination to choose when the land of the gods is waiting for you with open arms.
Himachal Pradesh or Dev Bhoomi Himachal with its high mountains and lush green valleys is an ideal destination for tourists, backpackers, and travelers from not just India, but around the world. In this blog, I will provide you with the best places to visit in Himachal to enjoy the miraculous waterfalls and the hypnotizing views of Himalayas.
So, before we start to make your research easy. I would like you to go through the topics I have included, so you can choose to skip to the part you are interested in. Let's begin,
What Places are open in Himachal?
As I have gained the information from the local authorities and some of the tour operators, here is the good news for you all. Many places are starting to get back on track, though it will take some more time for everything to become normal.
The whole tourism had a setback because of the lockdown, and the movement had completely stopped for the last 3 months.
As per the new guidelines, some places in Himachal are going to open now. Entry to some villages might be restricted for tourists as per the discretion of the local authorities. But the central government has enforced new guidelines to the state government for interstate travel and entry into Himachal is allowed for tourists.
There will be no need for a COVID pass for inter-state movement but to monitor the movement of outsiders, registration on the COVID e-Pass website is mandatory with the clearance of a COVID-negative report, not older than 72 hours. All tourists should have a hotel booking of not less than 5 days (e-booking is mandatory) with all the clearances mentioned above and you are all set to go. However, do keep in mind the curfew imposed does come with a daily time restriction you can check out here.
To keep yourself updated on the news check here.
To get the detailed procedure on how to register/ apply for e-pass as a tourist visit here Register for Travel E-pass Himachal | Jul 2020
Also Read: What safety precautions to take while traveling via your car or flight?
Now the question is where to go in this kind of situation because safety is the most important factor these days. Don't worry, I am here to help you out and suggest some of the places for a 5-6 days refreshment.
The Top 7 Places To Visit In Himachal Pradesh
There are so many budget places to visit in Himachal, that won't burn a hole in your pocket if you have made a proper plan.
You can also read some Trekking Tips here.
Well, Himachal is not just a destination but a gateway to the scenic hill stations, trekking trails, lush green valleys, rich flora and fauna, and much more. Not wasting any more time let's check out some of the best places in Himachal Pradesh.
Shimla – The Queen
The queen of hills, as they said Shimla is one of the best destinations to visit due to its colonial-era architecture and a British era vibe. Out of all the mall roads in different cities I have visited, I found the best one to be in Shimla which remains the same throughout the year.
In late December or early January, Shimla is covered with a blanket of snow. If you are lucky you might get a view like this: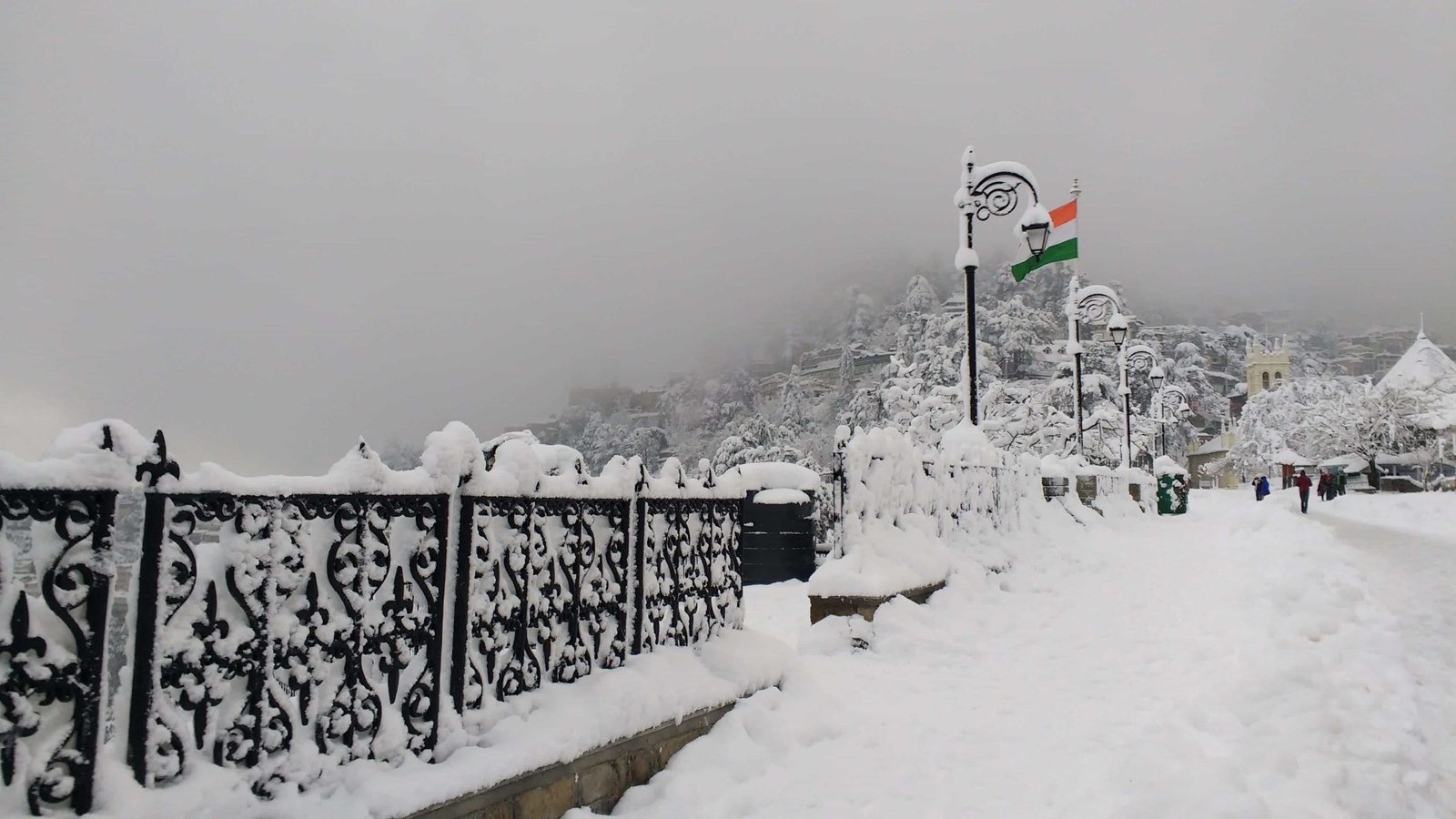 Shimla welcomes you throughout the year and easily accessible from Delhi and Chandigarh too. While you are in Shimla, don't miss eating momos at Krishna Bakers, Mall Road.
Famous Attractions:- Mall Road, Jakhoo Hill, The Ridge, Ropeway, Christ Church, and a Lord Hanuman's Temple.
Ideal Visit Days:- 3-4 days
How To Reach:- Total distance from Delhi is 342 Km and the nearest railway station is Kalka, either you chose to travel by bus which can be easily found at ISBT Delhi or Chandigarh. Mentioned below is the route if you plan to travel on your own.
Delhi – Panipat – Karnal – Kurukshetra – Ambala – Zirakpur – Solan – Shimla
This place is a must-go recommendation in our best places to travel in Himachal in 2020. If you are looking to enjoy urban Himachal life with a colonial-era architecture.
A complete guide of places to eat, things to do and local sightseeing
Kufri – The Snowy Quail
If you are traveling with your loved ones then Kufri is the perfect destination for you, especially in winters. Situated on a high elevation, this place is very close to Shimla and a famous attraction to the honeymooners and couples. Kufri has the densest forest in Asia and the place is covered with a white sheet of snow in the winter season. Beware this place does get crowdy during peak seasons, although not as crowded as Shimla. It is one of the best places to visit in Himachal Pradesh.
Famous Attractions:- Skiing in the winters, Naag Temple and hiking tours, Kufri Zoo, Viewpoint to the dense forest.
Ideal Visit Days:- 3-4 days (spend 2 nights and you won't regret it)
How To Reach:- It is just 10 km away from the Shimla.
This place is a must-go recommendation in our best places to travel in Himachal in 2020. If you are looking to enjoy roadside street-food and snow during off-season.
Get yourself lost in the dense pine trees with quiet surroundings. Trust me there is no better place than Jibhi where you can relax your mind. What's catchy about this place is the fact you drive through small roads and you can get the vibe of living in the jungle with creative architecture for cafes and homestays. I have been so many places but the serenity of this place and the picturesque view is unique here. You can visit the forest area and cross several bridges to reach the waterfall which could be a short destination.
An offbeat destination yet provides everything you need and a must-go destination in our best places to travel in Himachal bucket-list for 2020. To get a stupendous experience in the dense pine trees, stay at mud house or a Treehouse.
Read more:- Jalori Pass- A Gateway to the Paradise
Famous Attractions:- Jalori Pass, Serolsar Lake, hidden waterfall, Treehouse, Mudhouse cafe
Ideal Visit Days:- 4-5 days
How To Reach:- You can either choose via Shimla or you can drive via Mandi and you can find several modes of transport from Delhi; as well as from Chandigarh. You can take a bus from Delhi or Chandigarh, or you can board a cab or shared cabs or you can take your bicycle to get lost in the mountains. But what I feel like is, the best and most convenient way would be to drive in your own car.
If you are driving on your own, the total distance from Delhi is 492 km, follow the route as mentioned below.
Delhi- Karnal- Ambala- Chandigarh- Bilaspur- Sundernagar- Mandi- Banjar- Jibhi
**One thing keep in your mind, you must not enter the Aut Tunnel, take a U-turn and exit towards your right or else confirm with locals.
Check out the general overview of Jibhi, covered with snow.
This place is a must-go recommendation in our best places to travel in Himachal in 2020. If you are looking to enjoy a deep into the forest experience and drive-through Himachal roads.
Kasol – Way to Trekking Trails
Kasol, the mini Israel of India is the best hill station of Himachal Pradesh. It is the perfect place that provides you so many trails to hiking in the jungle, making your way through the large rocks and a complete tribal hike. A tiring yet refreshing walk followed by the rustling sound of Parvati River will get you all pumped up and give you peace of mind at the same time.
Famous Attractions:- Kheerganga Trek, Chalal, Trek to Rasol, Tosh and Manikaran Sahib
Ideal Visit Days:- 5 days
How To Reach:- The distance from Delhi to Kasol is around 511 km one way. Below mentioned is the route that I always choose.
Delhi – Karnal – Ambala – Kharar – Rupnagar – Bilaspur – Mandi – Bhuntar – Kasol
To get the complete information you can also check Kasol- an unimaginable Experience.
This place is a must-go recommendation in our best places to travel in Himachal in 2020. If you are looking to enjoy random trails through the forest and explore a variety of cuisines, cultures.
Malana – The Magic Valley
Located at a distance of about 21 km from Kasol, indeed; this magic valley is another beautiful place to visit in Himachal. You would be able to feel some magic while wandering in between narrow and wide trails in the village of Malana as it provides you the spellbinding views. This place is very famous not only for Indians but tourists from all over the world and is known as the little Greece of India.
Once you reach the top of the village, stay at least one night or two to connect solely with the valley. This 5 km walk is not that easy to climb but once you start walking the trail you will surely be motivated to reach the village.
Before entering the village check some facts about the Malana Valley here.
Famous Attractions:- Chanderkheni Trek, Waichin Valley, and Tosh
Ideal Visit Days:- 5-6 days
How To Reach:- Once you reach Kasol, you can share a cab to the starting point of Malana village. If you are traveling by your car then after reaching the starting point you need to park your vehicle at the roadside and there is no security of your vehicle.
You can find the way to trek down as the way is well-explained by the marks on the route. This place is a little dark and solo, but definitely a must-go recommendation in our best places to travel in Himachal.
Mcleodganj- The Mini Tibet
The place is full of Tibetans, hence Mcleodganj known as the Little Lhasa. You can find the perfect blend of India and Tibet walking on the streets of Mcleod. You can see the colorful lanes and the authentic food from the cafes in the market which is a must-visit place in Himachal Pradesh.
The place is perfect for anyone of you, whether you are a solo traveler, or you are traveling with friends or family. The scenic views, waterfalls, trekking trails have excellent views and the magic in the air is among the best places to visit in Himachal Pradesh.
Famous Attractions:- Dharamshala, Namgyal Monastery, Bhagsu Nag waterfall and Triund Trek
To read the complete guide of Triund Trek for beginners, Click here.
Also Read: Mcleodganj A Perfect Trek for Beginners
Ideal Visit Days:- 4-5 days
How To Reach:- To reach Mcleod Ganj you can take Volvo buses or HRTC (Himachal Road Transport Corporation) from Delhi bus stand and Chandigarh too.
Most of the peoples choose to travel by bus or their own vehicle because these are the most convenient options. Also, if you wish to book a flight, the nearest airport is Gaggal, 17 km away from Mcleod Ganj. To drive your own follow the mentioned below route
Delhi -Panipat – Karnal – Ambala – Rupnagar – Una – Kangra – Mcleodganj
This place is a must-go recommendation in our best places to travel in Himachal in 2020 if you love to explore food, culture and are inspired by Buddhism.
Bir Billing – The Adventurer's Paradise
The best place to visit in Himachal for adrenaline junkies, also known as the paragliding capital of India. The panoramic vistas from the highest point of paragliding not just give you the adrenaline rush but a sky view of the valley and a sense of fulfillment for Bir being the paragliding site that hosts world cups here. Apart from that this place is the highest paragliding site in Asia. The backpackers and the thrillseekers come from all over the world to fly in the beautiful Himalayan valley.
The place is a gem for backpackers and adventure seekers as it also offers you some hidden trekking trails of Himachal Pradesh.
Please be aware paragliding stops in July- August due to the monsoon so plan accordingly.
Famous Attractions:- Paragliding in billing, 13th-century Vaidyanath, Barot Valley, and Rajgundha Trek.
Ideal Visit Days:- 3-4 days
How To Reach:- The best possible way to reach is to take an overnight bus from ISBT Delhi or Chandigarh or you can opt-in for train/flight but again you will have to travel for 4-5 hours to reach Bir. The nearest station via train is Pathankot which takes 4-5 hours to reach and the nearest airport is Dharamshala Airport (in Gaggal) which is 2- 2.5 km away.
However, traveling on your own is also the best option, take the mentioned below route
Delhi -Panipat – Karnal – Ambala – Rupnagar – Una – Kangra – Palampur – Bir
This place is a must-go recommendation in our best places to travel in Himachal in 2020 if you are into adventure such as paragliding.
How To Book My Accommodation?
Many tour companies in Himachal Pradesh offer a good deal with cancellation and rescheduling policies. One of my suggestions to book your accommodation with booking.com as it offers a great deal at the cheapest rates for hostels and guesthouses.
Check out the policies before making the booking and try to contact the hotel manager for better clarification.
I am providing some travel resources that can help you to save your time and money in booking your accommodation.
For transport, you can take the buses if you are not traveling on your own as they got the permit to go to inter-state but try to avoid traveling in overcrowded buses.
What Precautions I Should Take?
Some of the places in Himachal are not allowing the tourists who are coming from the red zone. On the other hand, we should take responsibility for ourselves and be cautious.
Wash your hands frequently.
Keep a bottle of sanitizer with you and keep applying it every 2 hours on the naked parts of your body.
Make a habit to wear the mask regularly and avoid touching your face because that is the first route of spreading the virus.
In short, be more cautious and be careful at the cafes and restaurants and also at the Hotels. If possible wear hand gloves (latex gloves) and do not touch unnecessary things.
Make sure you check with the hotel for all the places that are open for tourism nearby, not all local authorities are welcoming.
Additionally, to visit places in Himachal Pradesh check the official government website to stay updated because the information may get changed. You can get the latest COVID related updates on the mentioned below websites-
As for now, it is not that convenient to travel and I personally suggest it's better to wait a little more to avoid any chance of spreading the virus. But, meanwhile, you can start looking at the situations and analyze properly so that you would be able to make the best plan for your journey.
Nowadays, please avoid traveling internationally when you have so many beautiful places to visit here. I hope the information helps you to understand the rules and how you can start to travel again. If you have any concerns or query feel free to ask the questions in the comment below.
Also Read: 5 Tips to Travel Smart in India